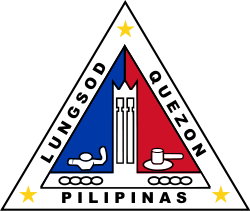 Quezon City (Filipino: Lungsod Quezon) is the former capital (1948-1976) and the most populous city in the Philippines. Located on the island of Luzon, Quezon City (popularly known to Filipinos as QC) is one of the cities that make up Metro Manila, the National Capital Region. The city was named after Manuel L. Quezon, second President of the Philippines and first President of the Commonwealth, who founded the city and developed it to replace Manila as the country's capital. Quezon City is not located in and should not be confused with Quezon province, which was also named after the president.
Having been the national capital, Quezon City is the site of many government offices, including the Batasang Pambansa Complex, the seat of the House of Representatives, which is the lower chamber in the Philippine Congress. The main campuses of two noteworthy universities, the Ateneo de Manila University and the country's national university, the University of the Philippines Diliman, are located in the city.
Ad blocker interference detected!
Wikia is a free-to-use site that makes money from advertising. We have a modified experience for viewers using ad blockers

Wikia is not accessible if you've made further modifications. Remove the custom ad blocker rule(s) and the page will load as expected.