he carabao is a swamp type domestic water buffalo (Bubalus bubalis) found in the Philippines. Water buffaloes were probably introduced to the Philippines by Malay immigrants around 300 to 200 BC. It is considered as the national animal of the Philippines. The miniture of the head can be seen in the Boy Scout Neckerchief.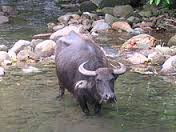 Ad blocker interference detected!
Wikia is a free-to-use site that makes money from advertising. We have a modified experience for viewers using ad blockers

Wikia is not accessible if you've made further modifications. Remove the custom ad blocker rule(s) and the page will load as expected.